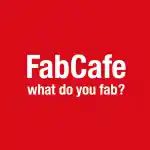 FabCafe Global Editorial Team

Tokyo
The rise of plant-based leather
Increased attention around the urgency of changing our lifestyles to have a lower impact on the environment is more than a trend. Around the world, consumers are reconsidering the materials and brands of products that we use in our daily lives. One example of this is the use of leather which is commonly used in fashion and furniture. Due to its animal origins and water intensive dying methods, leather production contributes to high CO2 emissions. One sustainable alternative is vegan leather made from bio-based materials and consumers are curious. One survey in the United Kingdom showed that 35% of respondents want more vegan leather options.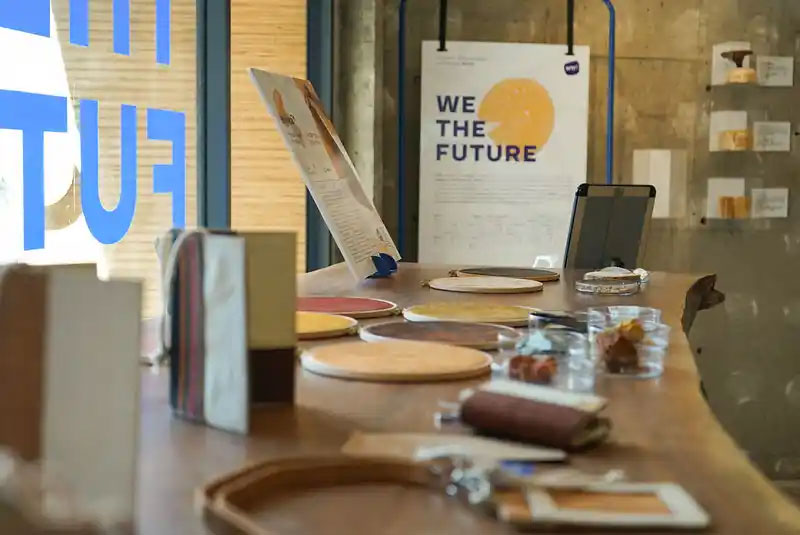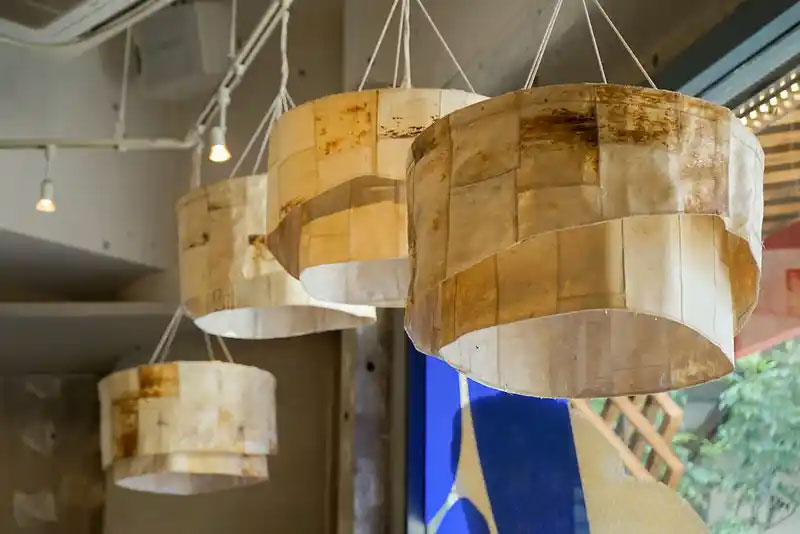 Introducing Indonesia-based biotech startup, Mycotech Lab
Mycotech Lab
 ("MYCL") is a mushroom mycelium material producing startup based in Indonesia. MYCL produces a lineup of sustainable mushroom-based materials including their original mushroom leather Mylea™. To engage a wider community and expand their sustainable biomaterials market, MYCL has launched an MYCL Japan facility in Nagano, Japan. To kick off the new expansion, MYCL collaborated with FabCafe Tokyo to organize an exhibition: the WTF (We The Future) Exhibition, which aims to redefine what future technology is by posing the seemingly simple question, "What is The Future?". In this article, you can read the interview with Ronaldiaz Hartantyo, who is co-founder and chief Innovation Officer at MYCL, and Kelsie Stewart, FabCafe Chief Community Officer.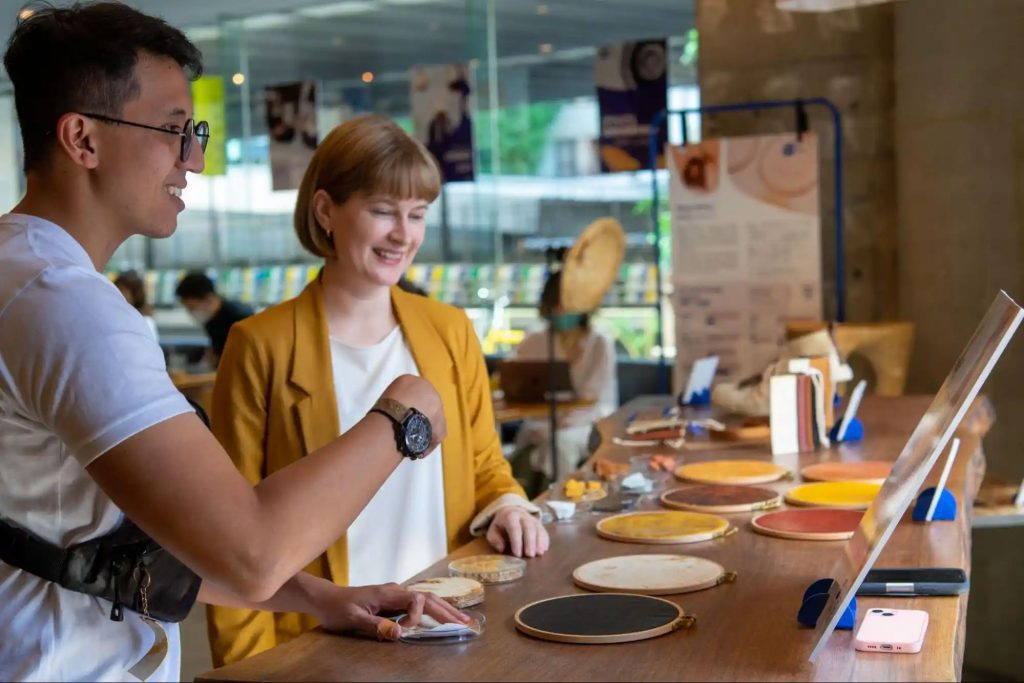 Vernacular architecture informs sustainable innovation
Kelsie (FabCafe) : Can you tell me about what inspires your work in sustainability? Ronaldiaz ("Aldi" from MYCL) : So actually, my professional background was founded in architecture, specifically in sustainable architecture and conservation architecture. My first meaningful touchpoint to sustainability was when I learned about the practice of vernacular architecture, which is, "architecture without an architect". In my first job, I often visited remote areas in Indonesia where the buildings are built to meet the immediate, local needs and their design is constrained by materials that are locally available. Whenever I went to remote areas, to visit local communities or local architects, it was me who was learning a lot from the local community, instead of me giving directions to everyone from an expert perspective.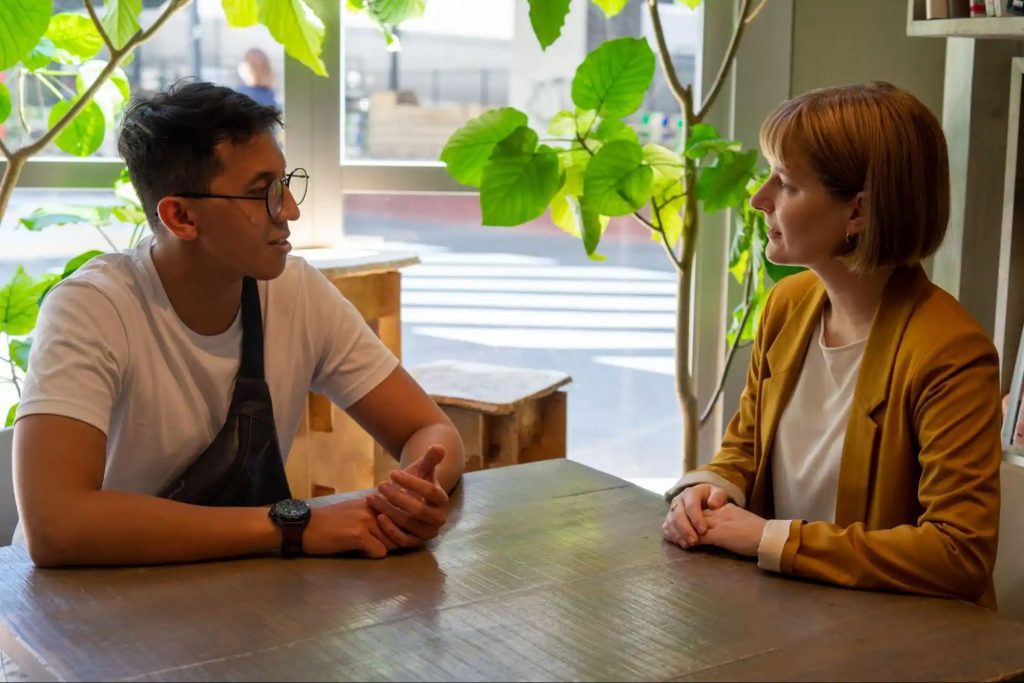 From local compost to the materials of our future
Kelsie (FabCafe) : Can you tell me about the vision of MYCL? 
Aldi (MYCL) : Our main objective when we started MYCL is to create impact in the world. We saw that Indonesia had so much underutilized potential. Indonesia is a country with lots of agriculture, which means that a lot of agricultural waste is produced. From all this waste, only around 1% of it is getting converted into compost. This means that the other 99% of the waste goes to landfills; which we saw as an opportunity. Our vision was to use this waste as a sustainable resource for creating the materials of the future.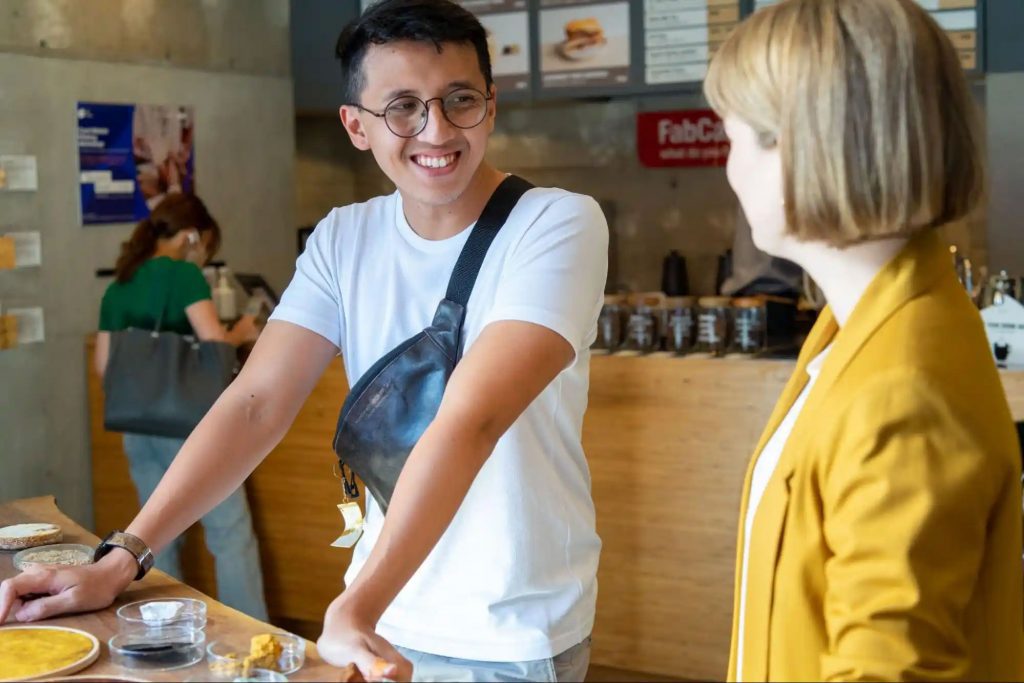 About the WTF! We The Future Exhibition at FabCafe Tokyo
Kelsie (FabCafe) : Can you tell me about the concept and goal behind the WTF! (We The Future) Exhibition theme? And can I ask you the question I think many people are also asking- does the "WTF!" mean what we think it means?
Aldi (MYCL) : So regarding the use of the acronym "WTF" itself, it was definitely a strategically chosen word for us, with the goal of reaching people with the exhibition. About our goal, we are aware that our current positioning is that we are material innovators and producers and due to this, most of the time, our revenues come from B2B. However, with regards to our new business strategy, we are also beginning to aim at B2B2C. We want to spread our brand values to the grassroots, to the customers itself. We hope that through the WTF! Exhibition we can spread awareness of our values throughout the production process, expressing better than before why our products are important.
Another reason for doing this exhibition is that we want people to think deeply about the question: "What will our future be?". When people think about the future, they often think of science fiction films, of going to Mars or about artificial intelligence. However, when I think about the future, I think about sustainability. More specifically, I think about how we need to be a lot more sustainable to even have a future.
The current generation is as pragmatic as ever before, because they are pessimistic when they think about the future. Even though the future is looking bleak, the least we can do is to do as much as we can, to make sure that the next generations can experience the future at all.
We were interested in doing this collaboration with FabCafe because this is the first time that we came upon an organization that focuses on developing and exploring new materials in an engaging way. Most of the time we work together with research institutions, like universities, so it was exciting to get in contact with a cafe that explores new materials in this way. When we spoke with the team at FabCafe Tokyo, we also found that we had similar visions with regards to material explorations and getting market feedback on products.
"WTF! We The Future" collaboration summary:
| Mushroom-based Material EXHIBITION – "WTF! We The Future"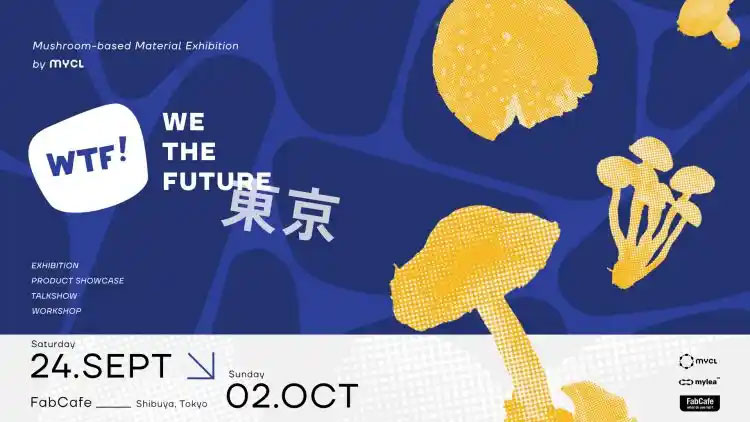 | WTF! We The Future Exhibition Opening PARTY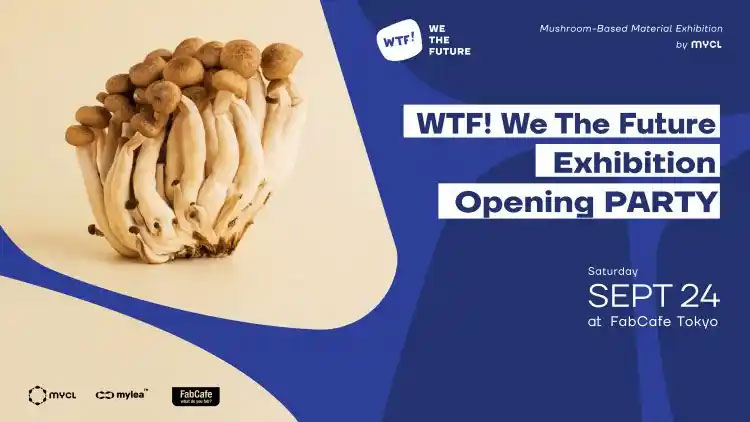 | Card Wallet Making Workshop using Mylea™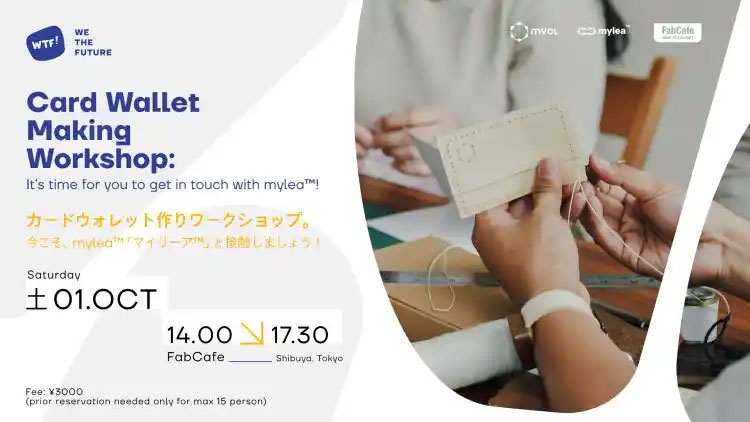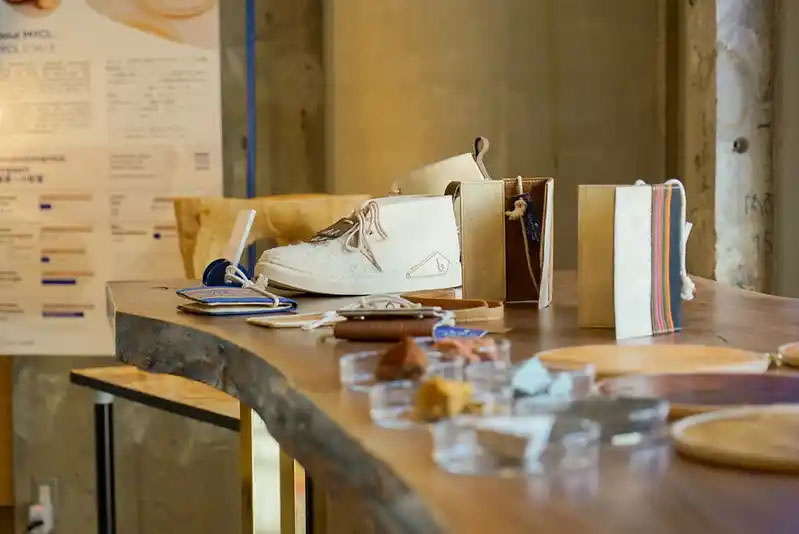 About the process from mycelium to usable material
Kelsie (FabCafe) : Can you tell me about this process of going from the mycelium part of the mushroom to the various MYCL materials?
Aldi (MYCL) : The foundation of our technology is mycelium mushrooms, which we grow in a substrate made of agricultural waste. Currently, we are using sawdust as this is the most common agricultural waste in the area that we are based in, Bandung. These wood chips offer nutrients to the mycelium that we put in it; the mycelium grows and it colonizes the substrate fully in about two weeks. To make the strong Mylea material, we let it grow for about five to six weeks.
The process of making Mylea is not very complex. However, the fine tuning of the substrate composition and growing conditions, like hygiene, temperature, humidity and light, are essential. This means that for each production process, a specific recipe is needed that ensures the quality of Mylea is consistent. In total, we already have about 50 different recipes for 50 different types of waste. This is what makes the process of making Mylea beautiful; we can adapt the process to what kind of waste is locally available.
Kelsie (FabCafe) : What kind of materials have you tried out for the substrate in Indonesia?
Aldi (MYCL) : Right now, outside of corn, we have tried out for example sugarcane, rice, palm trees, cassava, and coffee. In total we have tried 15 different types of recipes. When we go to another country like somewhere in Europe or to Japan, we just need to find what is available. Then, we can use this as a material.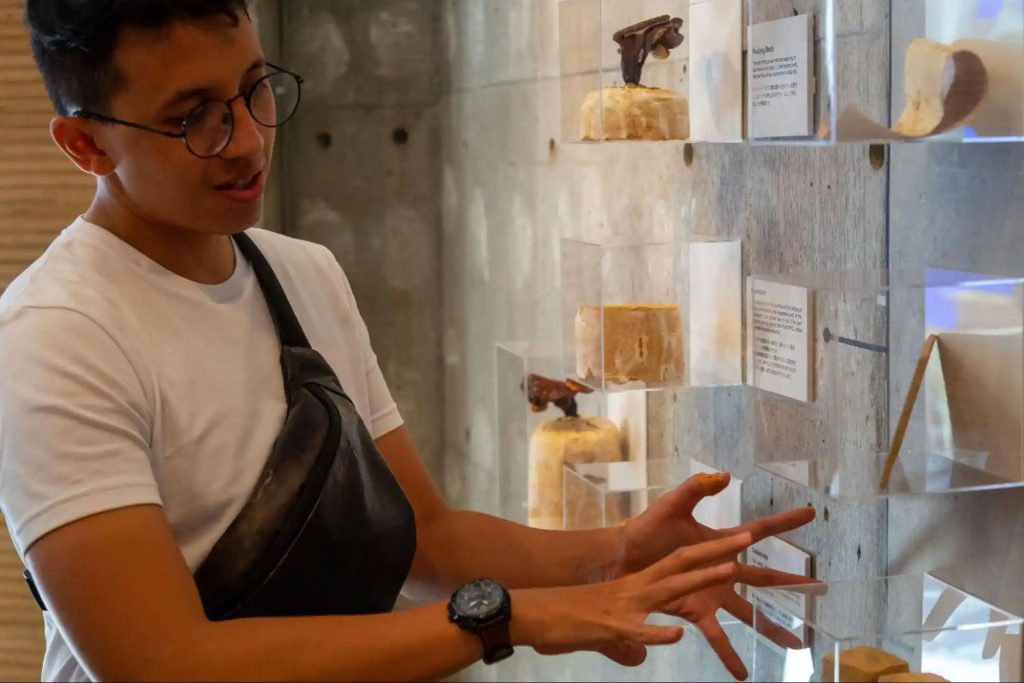 How does it compare? Mylea is waterproof, durable and measurably better than cow leather 
Kelsie (FabCafe) : What is the anticipated lifespan and durability of the Mylea? Can these materials get wet?
Aldi (MYCL) : With regards to lifespan, the MYCL team has been testing it themselves by using different Mylea products in their daily lives. For example, my watch strap which is made from Mylea is almost 4 years old right now and it is still in good shape even though I have been wearing it every day. One aspect which prolongs the lifespan is that Mylea is waterproof. We have also done lab tests, which showed that Mylea is within the range of tensile strength of leather and it is more heat and humidity resistant than leather.
There is a fine line between durability and biodegradability, and we want both aspects. That's why we need to test and improve continuously. Otherwise, we're just creating another plastic, and we don't want that.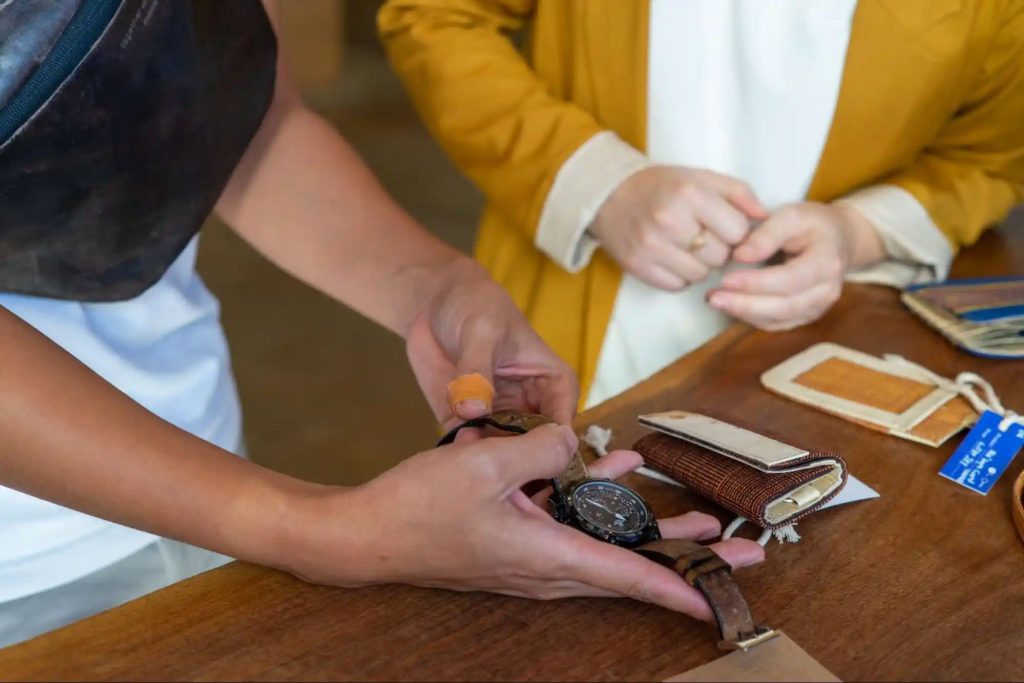 A company good for the earth and their employees. Mycotech Achieved the B Corporations Certification in 2019
Kelsie (FabCafe) :
I see that Mycotech Labs was one of the first Indonesia companies to become
Certified B Corporation
. Why did you want to become a BCorp company?
Aldi (MYCL) :
As sustainability has been our main core value since the start, we wanted to have guidelines and a framework for our company to follow and make sure that we measure our growth in a sustainable and responsible way. This is why we applied for the B corporation certification. When we got the certification, we were happy with that, but our main goal was to get responsible guidelines for our way of working. When we submitted our request, we passed the first time we applied. We have now been certified by B Corp for 4 years.
Working with brands to solve the issues of waste
Kelsie (FabCafe) :
I see you've worked with
Hijack Sandals
and Apakabar for making this great outfit. How did you meet these collaborators and what did they think of the materials?
Aldi (MYCL) :
To find the right collaborators, it's quite a challenge. But it is really important to us, as we're currently not producers of wearable products. People always look at us as a supplier. We're always looking for collaborators that want to grow with us, so these are examples of companies that want to do that. Usually we'll do a rapid prototyping phase, and think about what the most suitable process is for them to try out using our materials. It's a two-way innovation process in this way.
Kelsie (FabCafe) :
Have you found any interesting collaborators in Japan that you're looking forward to collaborating with?
Aldi (MYCL) :
At this current moment, we are in contact with different brands to start collaborations. I'm very excited about working together with
WSGC
and
Bonprix
.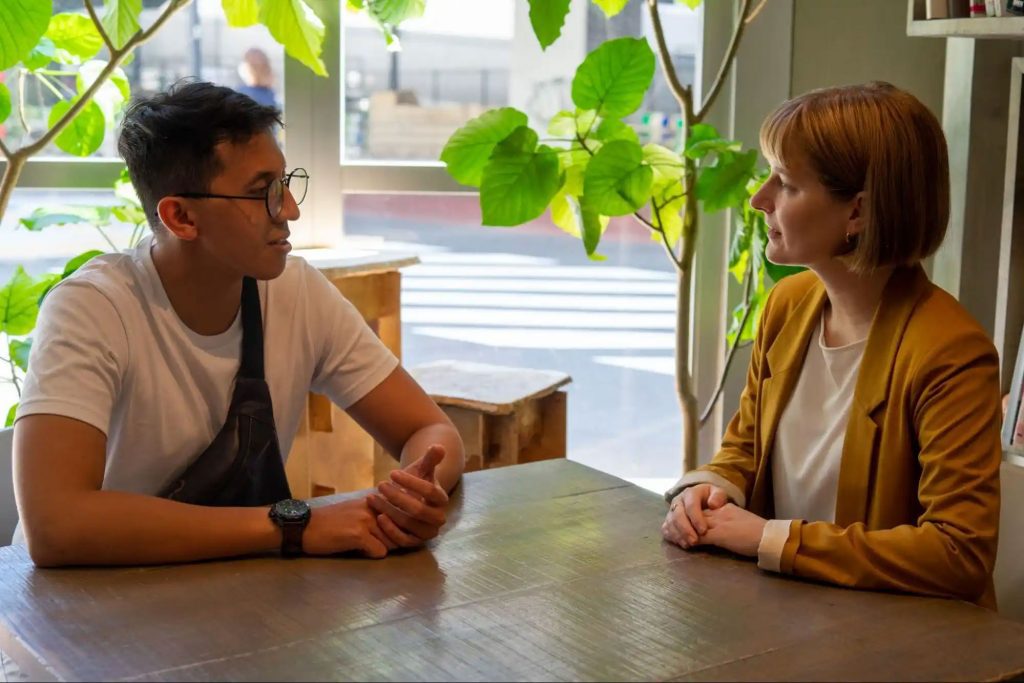 Stepping into the Japanese market
Kelsie (FabCafe) : Why did you decide to expand your business in Japan? Aldi (MYCL) : There are two main reasons that we wanted to move into Japan. The first reason is that we found the Japanese market characteristics very interesting, because it has a large influence on global trends. The big brands always look at Japan as a trend setter. In line with this, we think it is interesting to move into Japan as we see more and more sustainable brands coming to Japan because the market is more mature. Another reason we decided to expand to Japan is because of the expertise on production and R&D, which we want to improve in because our main objective right now is to create a scalable production line and to make sure that the materials of MYCL will get a higher economy of scale. This will help us create more impact. We think Japan is a great fit because they are really advanced on machinery, especially agricultural machinery. Kelsie (FabCafe) : Is there a reason why you chose Nagano for your new research facility? Aldi (MYCL) : We met with our partners in Nagano online at first, during the pandemic. At the start, we were talking with them because we wanted to buy machinery from them. But, the machinery that we need is actually not invented yet. That's why we decided to just work together. As our resources were widely available in Nagano, it made sense for us to set up our factory there, as it makes the logistics easier. We also saw a lot of common objectives and mutual benefits for both of the parties. This helped us in setting up MYCL Japan and progressing further through this collaboration in the R&D of the machineries. Collaboration is a key element of doing business for us, because the problem of all the waste that we produce as humans, is too big to solve only by ourselves.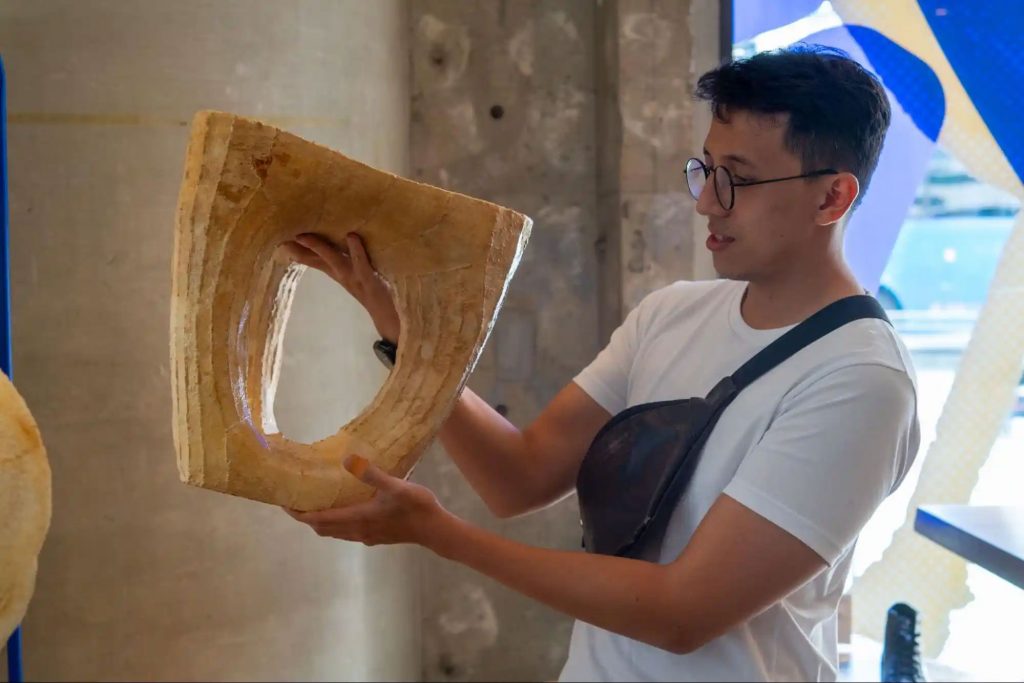 Kelsie (FabCafe) : What are the biggest challenges you have come across working in Japan?
Aldi (MYCL) : First of all, the distance we need to bridge when expanding from Indonesia to Japan is quite difficult. Of course because we have to travel far, it's hard to coordinate. Another aspect we found is that Indonesian and Japanese business styles differ; we are learning throughout our expansion process how to adapt to Japanese culture.
Another challenge we're currently facing is on the production side. We're working on adjusting the production process, to fit with the climate and the waste materials that we're using in Nagano. To make sure the transfer of knowledge goes smoothly, there are currently three employees of MYCL that are on site at Nagano. Even though they use similar kinds of wood in Nagano, the type of wood here in Japan is really different, which is why we need to adjust the composition.
Kelsie (FabCafe) : What kind of partners are you looking for? 
Aldi (MYCL) : We are looking for brands that have similar values as us, not necessarily brands that make a specific product. For example we see brands like Freitag, Oldbirds or Patagonia, that are trying their best to lower their impact. These are the kinds of brands that we want to surround ourselves with, because what kinds of companies you work with also defines your own company.
Furthermore, we are looking for partners that want to grow together with us. This means we're not seens as mere suppliers of materials. We want to work together with brands that are willing to do prototyping, give us feedback and then we can adjust the process of making our materials. This way of working is essential because Mylea is a new product, which cannot be compared to leather 100%.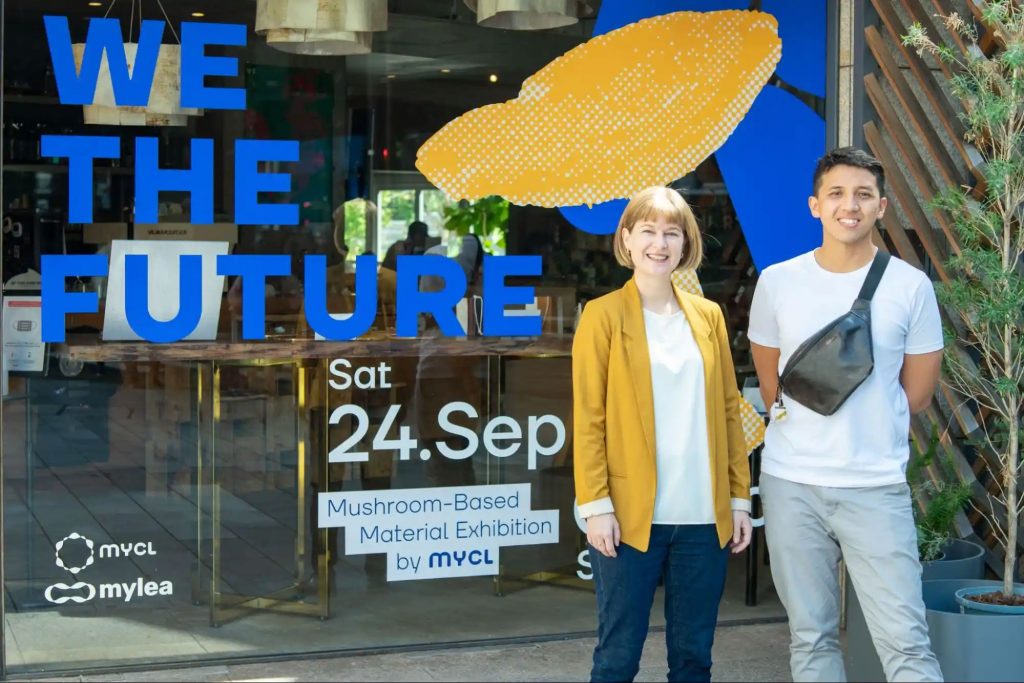 Closing
FabCafe Tokyo is very excited to have worked together with MYCL for the WTF!
exhibition
and
mushroom leather workshops
. FabCafe  is engaged in exploring new potentials of materials, and in line with this, FabCafe and Loftwork are organizing the crQlr awards. The crQlr Awards 2022 are a global award to showcase promising ideas in the circular economy and regenerative design which give rise to new social, ecological, and economic opportunities for our future. For more information, please click on the button below: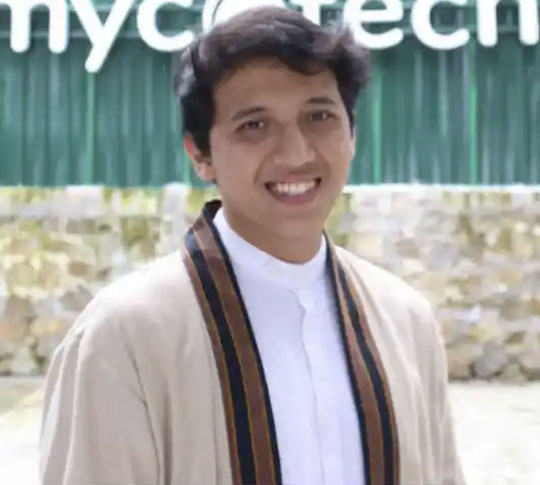 Mycotech Lab (MYCL), Chief Innovation Officer / Co-Founder
Ronaldiaz Hartantyo is the Co-founder of Mycotech Lab (MYCL), a bio-based material startup from Indonesia. MYCL's objectives are to grow material using mushroom mycelium as a natural adhesive. By collaborating with local mushroom farmers to produce sturdy, lightweight products from strong, organic fibers that are formed into custom shapes, including BIOBO boards, a binderless board using mushroom mycelium as natural adhesive and MYLEA a leather-like material which fully grown using mushroom mycelium. MYCL utilizes agricultural waste and turns them into material.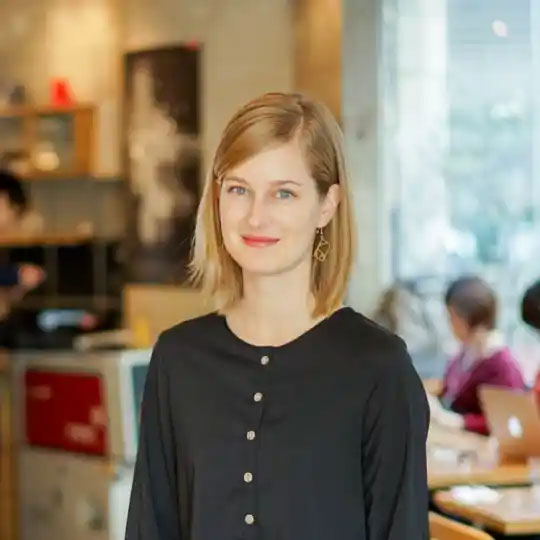 Kelsie joined Loftwork and FabCafe in 2017 and oversees the FabCafe Global network. In FabCafes across Asia, Europe and America, Kelsie strategizes and aligns Fab synergies to empower everyone to take the initiative to make and share their ideas with local and global communities. Kelsie is also the Tokyo organizer for the Global Goals Jam (GGJ), a two-day designathon and community which aims to create short term solutions for the Sustainable Development Goals. Kelsie has organized sustainability and design thinking workshops in Tokyo, Bangkok and Hong Kong.